Warranty included
We've got you covered
Premium brands
Names you can trust
Flexible payments
Finance up to 5 years
Free Delivery
Across contiguous US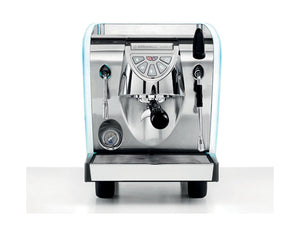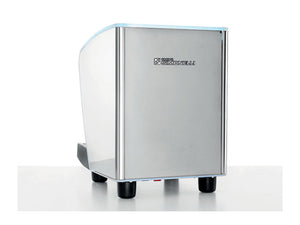 ---
Usually ships within 1-2 weeks.
Have a question?
We're here to help.
The Nuova Simonelli Musica
The Nuova Simonelli MUSICA is an elegant compact volumetric machine, capable of delivering high-quality espresso. This machines size, output, and styling making it ideal for a number of venues. This machine comes in two different setups. One with a water take reservoir for ease of use (pour over) and another that can connect directly to a water source (direct connect), eliminating the need to refill the tank in the back.
Key Features
Button Pad with Backlit Soft-Touch Buttons - button pad backlit with volumetric and manual dosing buttons with adjustable brightness levels. The volumetric dosing system stores up to three different dose settings.
Indicator Lights - they relay information about the water level and heating element to the user. They'll light up when the water level is too low.
Thermo-Compensated Group - it creates temperature stability for optimal brewing by continuously circulating the hot water.
Insulated 2 Liter Copper Heat Exchange Boiler - it supplies a ton of steam power (you can brew and steam at the same time on the Musica).
Pre-Infusion System - it allows all of the noble substances in the coffee to be fully extracted.
Programmable Hot Water Nozzle - programming the hot water wand for set doses of water allows baristas to take multitasking to greater heights.
Push Pull Steam Lever - the new ergonomic design ensures more comfortable steaming for those with sensitive wrists.
LED Edges (featured in the Lux version) - the illuminated edges provide better visibility of the barista's detailed work in low-light settings.
Installation Requirements
Professional installation required
110v outlet - see manual instructions
Water filtration - see manual instructions
Pressure regulator may be necessary if water pressure is too high - see manual instructions
We're happy to advise on any of the above requirements
Specifications
| | |
| --- | --- |
| Manufacturer: | Nuova Simonelli |
| Boiler Type | Heat Exchanger |
| Group | 1 |
| Boiler Size | 2 lt |
| Width | 16" |
| Depth | 13" |
| Height | 17" |
| Voltage: | 110v |
| Amperage | 10 |
| Wattage | 1200w |
| Weight | 45 lbs |