Warranty included
We've got you covered
Premium brands
Names you can trust
Flexible payments
Finance up to 5 years
Free Delivery
Across contiguous US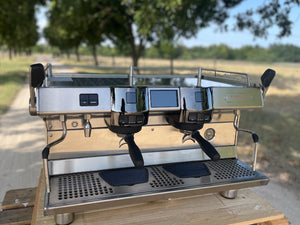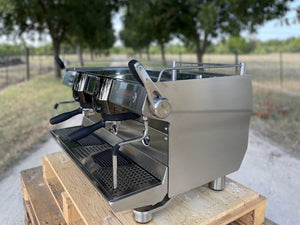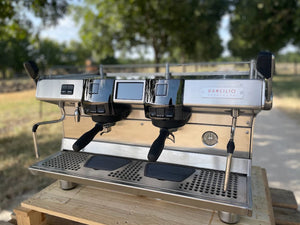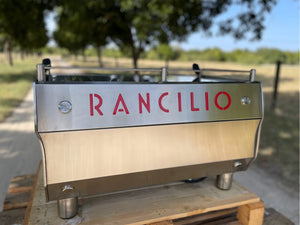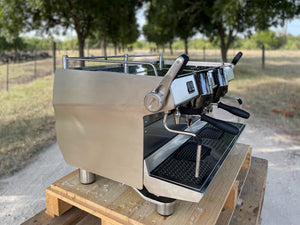 ---
Usually ships within 5 business days.
Have a question?
We're here to help.
Rancilio Specialty RS1
The RS1 features innovative brewing through stainless steel groups that contain a micro-boiler and two heating elements, keeping the temperature stable throughout the brew cycle.
This machine shows off both impressive design and superior usability through a classic multi-boiler paired with programmable temperature controls and volumetrics,
resulting in a better cup profile.

Key features
Advanced Temperature Profiling- Allows
baristas to adjust the temperature of the water dispensed during espresso extraction by up to 5°C (9°F).
Multi-boiler-
Each stainless steel group contains a micro-boiler and two heating elements. Maintains the thermal performance of the machine, even when simultaneously brewing espresso and steaming milk, and allows different temperatures to be set for each group head.
Pre-Infusion And Post-Infusion
-
The barista can vary the water pressure both in the initial stage (pre-infusion) and in the final stage (post-infusion) of the extraction process, choosing between mains pressure or pump pressure, and adjust the duration of both stages.
4.3″ touchscreen and group head with dedicated display-
It is equipped with dedicated displays for each group with dispensing stopwatch and extraction temperature.
2-Stage Steaming- The RS1's programmable steam pressure is excellent for adding a little more control to milk texturing.

Installation Requirements
Professional installation required
220-240V outlet - see manual instructions
Water filtration - see manual instructions
Pressure regulator may be necessary if water pressure is too high - see manual instructions
We're happy to advise on any of the above requirements
Specifications
Manufacturer:
Rancilio
Boiler Type
Multi-Boiler
Number of Group Heads

2

3

Steam Boiler Capacity

11 Liters

16 Liters

Width (in):

33 inches

42.7 inches

Depth (in):

23.6 inches

23.6 inches

Height (in):

18.2 inches

18 inches

Voltage:

220-240V

220-240V

Amperage:

25

30

Wattage:

5600

6750

Weight

209.4 lb

242.5 lb

Certification
CE