Warranty included
We've got you covered
Premium brands
Names you can trust
Flexible payments
Finance up to 5 years
Free Delivery
Across contiguous US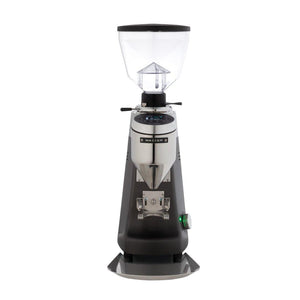 ---
Usually ships within 2-3 days.
Have a question?
We're here to help.
The Mazzer Kony S Electronic
From Mazzer, the Kony S Electronic is excellent for medium-high volume cafes. On-demand grinding equipped with anticlumping and hybrid dampers to ensure less grinds are caught in the chamber. This grinder has excellent dosing consistency, IoT connectivity and a double fan cooling system for reliable performance.
What's Included?
Mazzer Kony S Electronic espresso grinder
12-Month Parts Warranty
Free shipping within the contiguous US
Lifetime Pro Support
Key Features
IoT connectivity - Smart features and remote monitoring
Counter and max dose settings - Keep track of volume and set maximum limits
Stepless micrometrical grinding adjustment - Maximum control to dial in your grind size
Double-fan cooling system - Improved heat ventilation for better grind size consistency and to protect the flavour of your beans
Portafilter fork - Holds your portafilter to dose into directly, also adjustable and removal for filling other containers
Grind flow control system - Reduces static charge and avoids clumping to improve dose consistency
Low retention - less stale coffee caught in the chamber and less purging required when changing settings
LCD display - easily configure and monitor settings
Specifications
| | |
| --- | --- |
| Manufacturer: | Mazzer |
| Burr Type | Conical |
| Burr Diameter | 63 mm |
| Burr Speed | 420 rpm (50 Hz) – 500 rpm (60 Hz) |
| Coffee bean hopper | 1.3 kg |
| Width: | 240 mm |
| Depth: | 264 mm |
| Height: | 651 mm |
| Voltage: | 110v |
| Wattage: | 450 watt |
| Weight | 44.1 lbs |
| Certification: | CE |