Warranty included
We've got you covered
Premium brands
Names you can trust
Flexible payments
Finance up to 5 years
Free Delivery
Across contiguous US
Renewed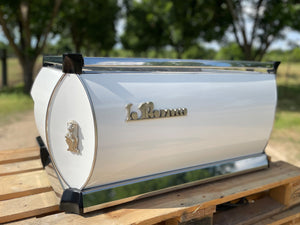 ---
Usually ships within 5 business days.
Have a question?
We're here to help.
The La Marzocco GB5
The GB5 is the type of espresso machine you always find prominently displayed. Its classic exterior has made it a La Marzocco Icon and a favorite among cafes seeking a sophisticated show piece. The GB5 comes with the Thermal Stability System that's made La Marzocco the most prestigious name in the business. PID controlled dual boilers paired with saturated groups ensures robust temperature stability and endless steam, even in the busiest of cafes. Ruby Flow Restrictors reduce scale buildup, maximizing up time and leading to fewer maintenance costs. Built with automated volumetric controls, each shot type can easily be pre-configured ensuring consistency and efficiency shot after shot.
Key Features
Saturated Groups - ensures unsurpassed thermal stability, shot after shot.
Volumetric keypads and digital display - makes for easy shot programing and complete volumetric control, maximizing efficiency.
Built-in shot timers - a great feature for those who prefer manual control.
Dual Boiler System - separate boilers for steam and espresso, resulting in exceptional temperature control and stability.
PID Temperature control - Algorithmic control of boilers, providing consistent espresso brewing temperature (±0.5°C).
Tall Cup - allows you to use the machine with tall and large take away cups.
Barista lights- LED lighting illuminates under group heads.
Hot Water Economizer - enables you to fine tune the tap water temperature for teas and americanos.
Ruby Flow Restrictors - resists scale formation and erosion, helping reduce maintenance.

Installation
Professional installation required
208-240V outlet - see manual instructions
Water filtration - see manual instructions
Pressure regulator may be necessary if water pressure is too high - see manual instructions
Specifications
| | |
| --- | --- |
| Manufacturer: | La Marzocco |
| Boiler Type | Dual Boiler |
| Steam Boiler Capacity | 11 lt |
| Brew Boiler Capacity | 5 lt |
| Width (in): | 37.5" |
| Depth (in): | 24.5" |
| Height (in): | 18.7" |
| Voltage: | 208-240V |
| Amperage: | 24 |
| Wattage: | 4930 |
| Weight | 163 lbs |
| Certifications | CE |