Warranty included
We've got you covered
Premium brands
Names you can trust
Flexible payments
Finance up to 5 years
Free Delivery
Across contiguous US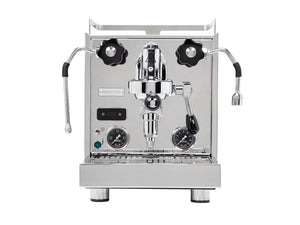 ---
Usually ships within 5 busines days.
Have a question?
We're here to help.
The Profitec PRO 600
The Profitec PRO 600 is a dual-boiler espresso machine with PID control, which can also be used as a single-boiler machine. This espresso machine separates itself from the crowd, thanks to its high steam power, E61 group head, vibration pump, and 1 liter water reservoir. The Pro 600 has been designed to make any kind of maintenance easy to do.
Key Features
Dual Boiler - independent, insulated stainless-steel boilers provide stable temperature and allow you to brew and steam at the same time.
PID Controller - control boiler temperature. An integrated shot timer compliments this by giving you a readout of the shots.
E61 Brew Group - constantly heated with water from the thermosyphon system providing temperture stability.
Handmade & High-End Design - built in mirror-finished, stainless-steel panels and rests on a piece of internal-steel frame, preventing bending or bowing during shipping.
Installation Requirements
110-120V outlet - see manual instructions
Water filtration - see manual instructions
Pressure regulator may be necessary if water pressure is too high - see manual instructions
We're happy to advise on any of the above requirements
Specifications
| | |
| --- | --- |
| Manufacturer: | Profitec |
| Boiler Type | Dual-Boiler |
| Group | 1 |
| Width | 12" |
| Depth | 17.7" |
| Height | 15.55" |
| Voltage: | 110-120v |
| Amperage | 11.6 |
| Wattage | 1400 |
| Weight | 52 lbs |