Warranty included
We've got you covered
Premium brands
Names you can trust
Flexible payments
Finance up to 5 years
Free Delivery
Across contiguous US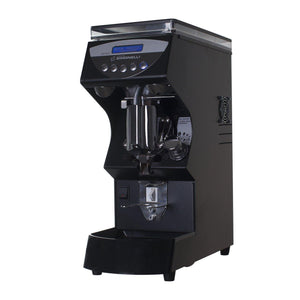 ---
Usually ships within 1-4 weeks.
Have a question?
We're here to help.
The Nuova Simonelli Mythos I Clima Pro
Nuova Simonelli's Mythos I is a widely recognized machine for its quality grind and power. The Mythos One, the first on-demand grinder from Nuova Simonelli with "Clima Pro" technology, has innovative intelligent management of grinding chamber temperature that ensures constant dose and grind, and therefore a better quality of espresso in the cup. All around, an excellent choice of machine for which you can't go wrong.
What's Included?
Nuova Simonelli Mythos 1 Clima Pro espresso grinder
12-Month Parts Warranty
Free shipping within the US
Lifetime Pro Support
Key Features
Stepless micrometrical grinding adjustment - Maximum control to dial in your grind size
LCD display - easily configure and monitor settings
Titanium burrs - More efficient and longer lasting than traditional steel burrs
Portafilter fork - Holds your portafilter to dose into directly, also adjustable and removal for filling other containers
Motor cooling fan - Improved heat ventilation for better grind size consistency and to protect the flavour of your beans
Motor isolation - Quieter than comparable models of grinder
Speed settings - Choose between low or high speed for enhanced process control
Clump crusher - Reduces static charge and avoids clumping to improve dose consistency
Specifications
| | |
| --- | --- |
| Manufacturer: | Nuova Simonelli |
| Burr Type | Flat |
| Burr Diameter | 75 mm |
| Burr Speed | 900 rpm (50 Hz) – 1080 rpm (60 Hz) |
| Coffee bean hopper | 1.3 kg |
| Width: | 188 mm |
| Depth: | 400 mm |
| Height: | 510 mm |
| Voltage: | 110v |
| Wattage: | 800 watt |
| Weight | 50.7 lbs |
| Certification | UL |