Warranty included
We've got you covered
Premium brands
Names you can trust
Flexible payments
Finance up to 5 years
Free Delivery
Across contiguous US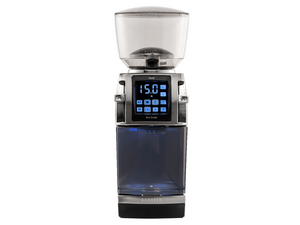 ---
Usually ships within 2 weeks.
Have a question?
We're here to help.
Forté BG
The Forte BG Brew Grinder is Baratza's latest addition to its grinder line-up, specially crafted for multiple prep methods! Named best commercial product at SCAA 2013, the Forte BG is a commercial flat burr grinder dedicated to perfecting medium to coarse grinds. A high-torque DC motor, and precision weight control. Designed with commercial brew bars in mind, the Forte BG packs a ton of functionality into a tiny footprint. Line up multiples on your brew bar for a grinding power house or bring one home to take your pour over to a whole new level.
What's Included?
Forté BG
12-Month Parts Warranty
Free shipping within the contiguous US
Lifetime Pro Support
Key Features
54mm Flat Steel Burrs: These burrs produce accurate grinding and high throughput for medium to coarse grinds.
Weight-Based: Set the weight of your desired ground coffee to more or less than 0.2g and the Forte BG will weigh the ground coffee while grinding, then stop automatically when it reaches your desired weight.
Digital Display: A backlit LCD touch screen is intuitive and easy to read, allowing you to dose by real-weight or by time.
Integrated Stopper Hopper
: A newly designed removable hopper can prevent beans from falling down the grinder chute, making switching beans a snap.
Programmability: Program three buttons with desired weights ( +/- .1 gram) or by time ( +/- .1 sec).
Removable Burrs: Use the included cast zinc tool to remove burrs for easy cleaning and maintenance.
Specifications
| | |
| --- | --- |
| Manufacturer: | Baratza |
| Burr Type | Flat |
| Burr diameter | 54 mm |
| Burr speed | 1950 rpm |
| Coffee bean hopper | 300g (10.6oz) |
| Width: | 130 mm |
| Depth: | 180 mm |
| Height: | 370 mm |
| Voltage: | 110v |
| Wattage: | 240 watt |
| Weight: | 13 lbs |
| Certifications: | No |