Warranty included
We've got you covered
Premium brands
Names you can trust
Flexible payments
Finance up to 5 years
Free Delivery
Across contiguous US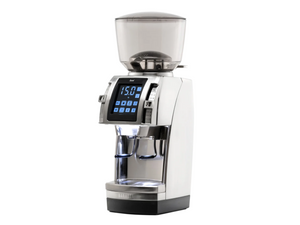 ---
Usually ships within 2 weeks.
Have a question?
We're here to help.
Forté AP
Named best commercial product at SCAA 2013, the Baratza Forte AP Grinder deftly transitions from coarser drip grinds to fine espresso grinds with precision. The Forte AP offers an upgraded motor with 70% more power and an improved touch screen display, all housed in a sleek metal case. And, with 10 macro settings and 26 micro settings, the Forte ensures you can dial in even the most finicky of shots.
What's Included?
Forté AP
12-Month Parts Warranty
Free shipping within the contiguous US
Lifetime Pro Support
Key Features
54mm Ceramic Flat Burrs: These burrs are built to last. Ceramic burrs have a longer shelf life than metal burrs and prevent heat transfer, which can damage a bean's flavor profile.
Weight Based Dosing: Set the weight of your desired ground coffee to more or less than 0.2g and the Forte AP will weigh the ground coffee while grinding, then stop automatically when it reaches your desired weight.
Strong and Silent Motor: The high-torque motor is 70% more powerful than the Vario's while rotating more slowly to prevent heat transfer to the grounds. The circuitry is equipped with an automatic reset thermal switch.
Backlit Screen: The touch LCD display is easy to read and intuitive to program.

Programming: Features three, user-programmable settings based on weight (+/- .1 gram) or time (+/- .1 sec).

Portafilter Holder: This model comes equipped with a portafilter holder for hands free grinding. The Forte AP also includes an 8 oz grounds bin.
Specifications
| | |
| --- | --- |
| Manufacturer: | Baratza |
| Burr Type | Flat |
| Burr diameter | 54 mm |
| Burr speed | 1950 rpm |
| Coffee bean hopper | 300g (10.6oz) |
| Width: | 130 mm |
| Depth: | 180 mm |
| Height: | 370 mm |
| Voltage: | 110v |
| Wattage: | 240 watt |
| Weight: | 13 lbs |
| Certifications: | No |