Warranty included
We've got you covered
Premium brands
Names you can trust
Flexible payments
Finance up to 5 years
Free Delivery
Across contiguous US
Renewed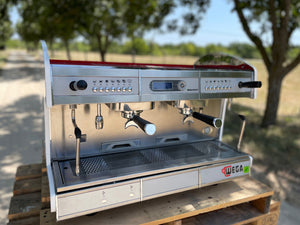 ---
Usually ships within 5 business days.
Have a question?
We're here to help.
The Wega Concept
The Wega Concept combines Wega's well-known build quality and reliability with an exceptional amount of technology and functionality. Wega built this machine to be the most energy efficient in its class, incorporating an EcoMode learning function to regulate the power output between learned busy and quiet periods. A PID-controlled multi-boiler machine allowing individual programming of each group to ensure your coffee selection can shine in every shot.
Professionally Renewed per our proprietary process:
Assess - For function and condition; repair as needed.
Extend lifespan - by replacing parts that will reach end-of-life within the next 5 years.
Cleanse for peak performance - boiler descale & clean-rinse
Rebuild - Rebuild steam assemblies and core components.
Test & Calibrate- Test for consistent function & calibrate for optimal pressure & temperature.
Key Features
Multi-boiler - vertical flanged boiler for each brewing group, in copper and brass, with a 1,2 litre capacity, and 1150W heating element
Electronic temperature control system - boiler pressure is programmable on LCD screen and utilizes a PID, improving steam pressure and extraction temperature stability for each of the group's boilers
Volumetric coffee dosing - 6 programmable coffee shot volumes per group
Volumetric hot water dosing - 2 programmable volumes of hot water from a cold water mixer heated by steam
EcoMode Learning Function - save energy with automatic low-power modes
LCD Display with Shot Timers - easily monitor your shot brewing times
*Standard side panels (do not illuminate)
Installation
Professional installation required
208-240V outlet - see manual instructions
Water filtration - see manual instructions
Pressure regulator may be necessary if water pressure is too high - see manual instructions
Specifications
| | |
| --- | --- |
| Manufacturer: | Wega |
| Boiler Type | Multi-boiler |
| Steam Boiler Capacity | 8 lt |
| Brew Boiler Capacity | 1.2 lt x 3 |
| Width (in): | 31.5" |
| Depth (in): | 23.6" |
| Height (in): | 23.2" |
| Voltage: | 208-240V |
| Amperage: | 20 |
| Wattage: | 4790 |
| Weight | 209 lbs |
| Certifications | CE |