Warranty included
We've got you covered
Premium brands
Names you can trust
Flexible payments
Finance up to 5 years
Free Delivery
Across contiguous US
Renewed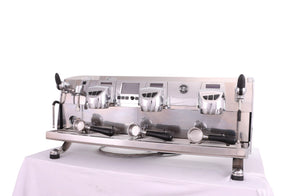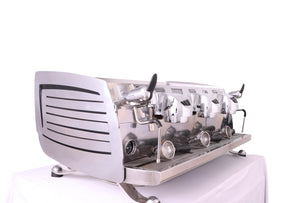 ---
Usually ships within 3 business days.
Have a question?
We're here to help.
The Victoria Arduino Black Eagle Gravimetric
The pinnacle of precision and modern design, the VA388 Black Eagle by Victoria Arduino soars above the competition. Utilizing T3 thermal control and Gravimetric shot dispensing, this incredible feat of engineering has features to impress the most demanding business owner and the most painstaking barista. Constructed primarily of glossy stainless steel, the Black Eagles exterior aesthetic is designed to make an immediate impression. Its rhombus-shaped sides display a sense of speed, and the rectangular lines imprinted in the side panels resemble an eagle's wings in flight.
The Black Eagle kicks it up a notch, featuring PIDs for each boiler and group head, leveraging its proprietary software to ensure they're working together to produce perfect extraction temperatures. This model also features a host of other features you'd expect like volumetric control over extraction, automated backflush, robust energy savings settings and an intuitive interface that makes programming a breeze.
What's Included?
Victoria Arduino Black Eagle Gravimetric 3 Group
NEMA L6-50 Plug
Portafilters
12-Month Parts Warranty
Free shipping within the US
Key Features
T3 Technology for exceptional brew temperature stability - espresso is extracted through heated group heads which are fed by independent brew boilers after being preheated via heat exchangers. Yeah, pretty awesome right?
PID-Controlled boilers and groups - precise control over extraction temperature
Gravimetric keypads and digital display - makes for easy shot programing and complete volumetric control, automating shot extractions
Push Pull Steam Levers - ergonomic wands allow for full steam or variable control
Low Profile - allows barista see and interact with guests
LCD display - easily direct every feature from an intuitive display
Automated backflush - no need to babysit the machine during routine backflushing
Energy savings settings - Automatically set on & off schedules, how many group heads are on and reduced power periods
Cool Touch Steam Wands - thermally insulated wands avoid scorching hands and hard-to-clean milk encrusted wands
Programmable water taps - set water temp for tea and americanos
Installation
Professional installation required
220-240V outlet - see manual instructions
Water filtration - see manual instructions
Pressure regulator may be necessary if water pressure is too high - see manual instructions
Specifications
| | |
| --- | --- |
| Manufacturer: | Victoria Arduino |
| Boiler Type | Pre-heated Multi-boiler |
| Steam Boiler Capacity | 17.3 lt |
| Brew Boiler Capacity | 0.7 lt x 3 |
| Width (in): | 43" |
| Depth (in): | 28" |
| Height (in): | 20" |
| Voltage: | 220-240 |
| Amperage: | 41 |
| Wattage: | 9100 |
| Weight | 297 lbs |
| Certifications | CE, EAC |