Warranty included
We've got you covered
Premium brands
Names you can trust
Flexible payments
Finance up to 5 years
Free Delivery
Across contiguous US
Renewed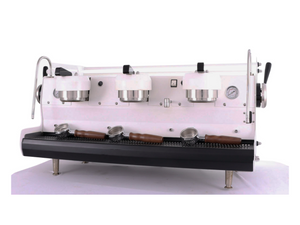 ---
Usually ships within 5 business days.
Have a question?
We're here to help.
The Synesso Cyncra
The Synesso Cyncra has a well-known reputation for its reliability and temperature stability. The Cyncra is the type of ultra-reliable workhorse that keeps volume-oriented cafes working non-stop. But it also has the types of features, such as independent brew boilers, and line-pressure pre-infusion, that make it well suited for high-end cafes. The Cyncra is a compelling value among today's top-end machines.
Professionally Renewed per our proprietary process:
Assess - for function and condition; repair as needed.
Extend lifespan - by replacing parts that will reach end-of-life within the next 5 years.
Cleanse for peak performance - boiler descale & clean-rinse
Rebuild - Rebuild steam assemblies and core components.
Test & Calibrate - Test for consistent function & calibrate for optimal pressure & temperature.
What's Included?
Synesso Cyncra 3 Group Espresso Machine
External rotary pump
NEMA 6-50 Plug
Portafilters
12-Month Parts Warranty
Free shipping within the US
Lifetime Pro Support
Key Features
Individual brew boilers with pre-heated water - ensures exceptional temperature stability shot after shot.
Group heads with no wear parts – reduces annual maintenance and enhanced durability.
Pre-infusion capabilities - maximize even extraction and reduce channeling (a necessity for super special / single origin espresso).
Programmable temperature (PID) per group head.
Cool touch steam wands -
allows the barista to froth the milk in jars of any size, it also helps avoiding burns and facilitates cleaning.
Updated Design - removable heat exchangers, ergonomic lever-actuated steam handles, water resistant cup warming tray.
Programmable hot water tap.

Installation Requirements
Professional installation required
50 Amp, 220V outlet - see manual instructions
Water filtration - see manual instructions
Pressure regulator (only if water pressure is too high) - see manual instructions
Specifications
| | |
| --- | --- |
| Manufacturer: | Synesso |
| Boiler Type: | Multi-boiler |
| Steam Boiler Capacity | 12.3 lt |
| Width (in): | 41"/1042 mm |
| Depth (in): | 24"/610 mm |
| Height (in): | 21"/ 534 mm |
| Voltage: | 220 |
| Amperage: | 50 |
| Wattage: | 7900 |
| Weight: | 190 lbs / 86 kg |
| Certifications: | CE, NSF |