Warranty included
We've got you covered
Premium brands
Names you can trust
Flexible payments
Finance up to 5 years
Free Delivery
Across contiguous US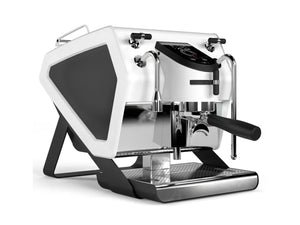 ---
Special Order Item- Please Inquire for Lead Times.
Have a question?
We're here to help.
The Sanremo YOU
The Sanremo You is an innovatove single-group, dual-boiler espresso machine with both manual pressure profile and volumetric capability that is ideal for both commercial and home use. The Sanremo YOU features a compact size, superb performance, and an ability to draw the aromas out of any type of coffee. Using the brew paddle, you can adjust the pressure of the shot at each stage and monitor the extraction in real time on the display. If you like what you created, then you can save the profile so the machine can replicate it in the future.
The Black and White models are demo units that were used at the April 2023 Specialty Coffee Association Expo in Portland by exhibitors. The Black/Red + Custom Sides models are Demo units that were used at the May 2023 Formula 1 Grand Prix Race in Miami.
All units undergo our Pro Renewal Process before shipment.
Hurry! The Black color variant is almost out of stock as of July 12, 2023.
Key Features
Multiboiler machine - both boilers (coffee and services) are in AISI 316 stainless steel.
Constant Stability - due to its electronic control of pressure and temperature, even after prolonged dispensing.
Volumetric Pump - new generation of 70 liters which allows profiling.
Customizable Presets - estraction profiles customizables and storable.
Energy Efficiency - two eco/on-off modes (automatic and manual).
Ergonomics - start/stop levers to activate water and steam with just one click and steam Cold Touch.
User Friendly - intuitive touch-screen display with inspired navigation menus to smartphone apps.
USB Entrance - for loading profiles and all software updates.

Installation Requirements
Professional installation required
110V outlet - see manual instructions
Water filtration - see manual instructions
Pressure regulator may be necessary if water pressure is too high - see manual instructions
We're happy to advise on any of the above requirements
Specifications
| | |
| --- | --- |
| Manufacturer: | Sanremo |
| Boiler Type | Dual Boiler |
| Number of group heads | 1 |
| Steam Boiler Capacity | 1 lt |
| Coffee Boiler Capacity | 0.5 lt |
| Length (in): | 13" |
| Depth (in): | 20" |
| Height (in): | 16" |
| Voltage: | 110 - 120V |
| Wattage: | 2350w |
| Weight: | 71 lbs |
| Certificate | CE, UL |