Warranty included
We've got you covered
Premium brands
Names you can trust
Flexible payments
Finance up to 5 years
Free Delivery
Across contiguous US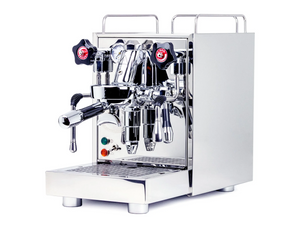 ---
Usually ships within 5 business days.
Have a question?
We're here to help.
The ECM Mechanika V Slim
The ECM Mechanika V Slim espresso machine is a compact yet powerful heat exchanger with a number of cosmetic and mechanical improvements over its previous iteration. The ECM Mechanika V Slim has slimmed down by more than 2 inches thanks to the vertical reorientation of the boiler, now measuring at under 10" wide.The new stainless steel boiler has a slightly increased capacity of 2.2L and features thermal insulation for greater energy efficiency.
Key Features
Heat Echanger - you can expect to brew and steam without waiting, ot even at the same time.
Compact Design - doesn't require much space, fitting comfortably beneath standard ketchen cabinetry, still leaving plenty of room on the counter.
PID Controller - control boiler temperature. An integrated shot timer compliments this by giving you a readout of the shots.
E61 Brew Group - constantly heated with water from the thermosyphon system providing temperture stability.
Handmade & High-End Design - built in mirror-finished, stainless-steel panels and rests on a piece of internal-steel frame, preventing bending or bowing during shipping.
Installation Requirements
110-120V outlet - see manual instructions
Water filtration - see manual instructions
Pressure regulator may be necessary if water pressure is too high - see manual instructions
We're happy to advise on any of the above requirements
Specifications
| | |
| --- | --- |
| Manufacturer: | Profitec |
| Boiler Type | Heat Exchanger |
| Group | 1 |
| Water Rerservoir | 3 lt |
| Steam Boiler Size | 2.2 lt |
| Width | 9.8" |
| Depth | 17.7" |
| Height | 15.55" |
| Voltage: | 110-120v |
| Amperage | 15 |
| Wattage | 1400 |
| Weight | 44.5 lbs |