Warranty included
We've got you covered
Premium brands
Names you can trust
Flexible payments
Finance up to 5 years
Free Delivery
Across contiguous US
Renewed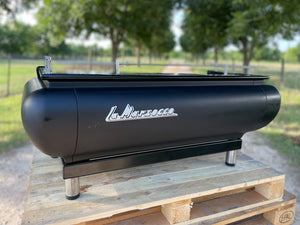 ---
Usually ships within 5 business days.
Have a question?
We're here to help.
The La Marzocco FB70
Pro Coffee Gear is proud to present this La Marzocco FB70 3 Group commercial espresso machine in Black color. This machine features twin PID's which has brought this machine with modern PID controlled espresso machines today. A dynamic preheater assembly ensures that water entering the coffee boiler is at precisely 170° F. 170° F water replaces hot water exiting the group, reducing temperature swings in the coffee boiler. A group cap designed, and an integrated ruby flow restrictor reduces channeling and ensures that water never leaves the saturated area of the coffee boiler, eliminating the introduction of temperature instability during the brewing process.
Professionally Renewed per our proprietary process:
Assess - for function and condition; repair as needed.
Extend lifespan - by replacing parts that will reach end-of-life within the next 5 years.
Cleanse for peak performance - boiler descale & clean-rinse
Rebuild - rebuild group heads and steam assemblies
Test & Calibrate - Test for consistent function & calibrate for optimal pressure & temperature.
What's Included?
La Marzocco FB70 3 Group Commercial Espresso Machine
NEMA L6-30 Plug
12-Month Parts Warranty
Portafilters
Free shipping within the contiguous US
Lifetime Pro Support
Key Features
Dual Boiler System- Allows simultaneous brewing and steaming, ensuring optimal temperature stability and efficient workflow.
High-Grade Stainless Steel Construction- Built to last with durable materials, ensuring long-term reliability and performance.
Multi-directional Stainless Steal Wands- Allows baristas to achieve optimal positioning and control while frothing milk, regardless of the angle or size of the milk pitcher.
PID temperature controller- Ensures that the water remains at the optimal temperature consistently, allowing for accurate and repeatable extraction of espresso shots.
Volumetric control - program espresso shots by volume, automating workflow and ensuring shot consistency

Installation Requirements
Professional installation required
220V outlet - see manual instructions
Water filtration - see manual instructions
Pressure regulator may be necessary if water pressure is too high - see manual instructions
We're happy to advise on any of the above requirements
Specifications
| | |
| --- | --- |
| Manufacturer: | La Marzocco |
| Boiler Type: | Dual Boiler |
| Steam Boiler Capacity: | 11 lt |
| Coffee Boiler Capacity: | 5 lt |
| Width (in): | 43" |
| Depth (in): | 25" |
| Height (in): | 22" |
| Voltage, Phase: | 208-240 VAC | 60Hz |
| Amperage: | 28 |
| Wattage: | 6100W |
| Shipping Weight: | 218 lbs |
| Certification: | CE |