Warranty included
We've got you covered
Premium brands
Names you can trust
Flexible payments
Finance up to 5 years
Free Delivery
Across contiguous US
Renewed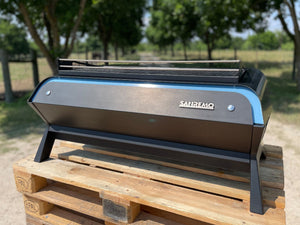 ---
Usually ships within 5 business days
Have a question?
We're here to help.
The Sanremo F18
The Sanremo F18 commercial espresso machine has an exterior that exudes a modern and sophisticated aesthetic, housing advanced technologies that ensure exceptional espresso brewing. With a multi-boiler system, including stainless steel coffee boilers, the F18 delivers powerful performance and temperature stability. The F18 maintains unwavering consistency, ensuring each cup of coffee meets the highest standards. It combines cutting-edge design, robust construction, and superior functionality to elevate your coffee experience
Key Features
Low Pressure Pre-Infusion - Minimizes channeling during extraction, ensuring more consistent espresso.
Volumetric dosing - features four programmable volumetric dosing buttons,
automating workflow and ensuring shot consistency.
Electronic temperature control system - Boiler pressure is programmable on LCD screen and utilizes a PID, improving steam pressure and extraction temperature stability
Multi-boiler - D
edicated brew and steam boilers for consistent espresso temperature
Cool touch steam wand - Steam milk without worrying about burns
Mixed hot water dispenser - able to output lower temperature hot water for teas and americanos
Automatic Cleaning Cycle - Process for coffee groups cleaning. Cleaning cycles number programmable.
Optional Features:
Auto Steam - Steam wand characterized by an electronic system that allows to mount and/or heat milk at the set temperature.
High Power Steamer Terminal - Adjustable hole diameter for steam power
External Volumetric Pump

Installation Requirements
Professional installation required
220-240V outlet - see manual instructions
Water filtration - see manual instructions
Pressure regulator may be necessary if water pressure is too high - see manual instructions
We're happy to advise on any of the above requirements

Specifications
Manufacturer:

Sanremo

Boiler Type

Preheated Multi-boiler

Number of group heads

2

3

Coffee Boiler Capacity

1 lt

1.5 lt

Steam Boiler Capacity

8.6 lt

14 lt

Length (in):

35.5 inches

42.2 inches

Depth (in):

25.5 inches

25.5 inches

Height (in):

20.7 inches

20.7 inches

Voltage:

220-240V

220-240V

Amperage:

28

32

Wattage:

6320

7200

Weight:

214 lbs

265 lbs

Certification:

CE