Warranty included
We've got you covered
Premium brands
Names you can trust
Flexible payments
Finance up to 5 years
Free Delivery
Across contiguous US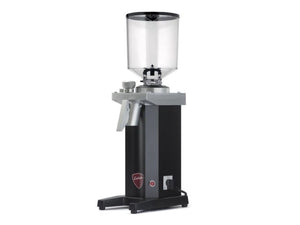 ---
Usually ships within 5 business days.
Have a question?
We're here to help.
The Eureka Drogheria MCD4 85
The MCD4 is built for extended service life from the ground-up with a 750W motor meant for volume, 85mm flat burrs, and an outsized grind chute with bag clip for easy cleaning. Further, the MCD4 features Eureka's unique 'Easy Setting' grind adjust system. This stepless setup adjusts from French press-coarse to Turkish-fine in one full turn of the grind knob. Easy-to-read markings around the grind adjust dial make it easy for a user to select their brew method and grind on their own.
What's Included?
Eureka Drogheria MCD4 85
12-Month Parts Warranty
Free shipping within the contiguous US
Lifetime Pro Support
Key Features
85mm Burrs- Large flat burrs, excellent for bulk grinding for most brew methods, and offer easy-access upgrades to titanium or Red Speed aftermarket burr sets.
Easy Setting- The stepless grind adjust dial can be set from French Press to Turkish in one revolution.
Big Motor- A large-format motor offers excellent service life and high speed grinding.
Bag Clip- A large grind chute and integrated bag clip make bulk grinding extra convenient.
Compact size- The MCD4's narrow size makes it easy to squeeze into crowded countertops.

Specifications
| | |
| --- | --- |
| Manufacturer: | Eureka |
| Burr Type | Flat |
| Burr diameter | 85 mm |
| Burr speed | 1430 RPM |
| Coffee bean hopper Capacity | 2.2 lbs |
| Width: | 7 in |
| Depth: | 10.5 in |
| Height: | 25.5 in |
| Voltage: | 110v |
| Wattage: | 670 watt |
| Weight | 35 lbs |
| Certification: | CE, ETL |