Warranty included
We've got you covered
Premium brands
Names you can trust
Flexible payments
Finance up to 5 years
Free Delivery
Across contiguous US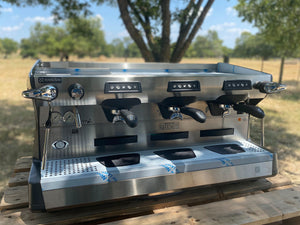 ---
Usually ships within 5 business days.
Have a question?
We're here to help.
RANCILIO CLASSE 5 USB
Industrially inspired functional minimalism and contemporary aesthetics are the strong points of Classe 5. A machine that transforms basic essentials and elegance into distinctive personality traits. Modern and sophisticated side panels, ample group covers and an ergonomic working area guarantee baristas comfort and convenience. The Metal Dome technology applied to the keypad ensures a pleasant, harmonious touch sensation
Key Features
Volumetric Control - 4 programmable volumetric controls per group for a simple and consistent workflow
Auto-Volumetric - Built-in volumetric pump
Independent Heat Exchangers - Each group head pulls from its own heat exchanger for consistent shot-to-shot heat
C-Lever - The Rancilio patent steam valve and ergonomic control handle offers advantageous open-stay and open-close capacities.
Two manual steam wands - for frothing and steaming milk
Boiler and pump pressure control gauges
Optional Features
SB version - The technological solution that revolutionises Rancilio coffee machines' hydraulic system. By keeping water temperature steady, it guarantees maximum repeatability during extraction.
Tall version - has a taller working area and can accommodate cups up to 14.5 cm in height. It also features an extractable rise plate for traditional espresso cups.
iSteam - Intelligent steam wand that consequently infuse air and turns off at the appropriate temperature to make the ideal milk for cappuccinos and lattes.
Cup Warmer - The cup warmer has five temperature levels settable via touchscreen interface and guarantees optimal heating distribution across the grid.
Installation Requirements
Professional installation required
220-240V outlet - see manual instructions
Water filtration - see manual instructions
Pressure regulator may be necessary if water pressure is too high - see manual instructions
We're happy to advise on any of the above requirements
Specifications
Manufacturer

Rancilio

Boiler Type

Heat Exchanger

Group Head

1

2

2 Compact

3

Steam Boiler Capacity

4 Liters

11 Liters

5 Liters

16 Liters

Width (in):

16.1

30.3

24

39.8

Depth (in):

21.3

21.3

21.3

21.3

Height (in):

20.5

20.5

20.5

205

Voltage:

120/ 220-240V

120/ 220-240V

120/ 220-240V

220-240V

Amperage:

8

20

14

26

Wattage:

1700

4300

3000

6000

Weight

77.2 lb

123.5 lb

110.2 lb

149.9 lb

Certification

CE, UL, NSF